Stove And Oven Repair Toronto
TSSA CERTIFIED GAS TECHNICIAN
lLive in the Greater Toronto area? Need emergency service to your stove or oven? We offer 24/7 scheduling that works based on your timeline.
24/7 Stove Repair In Toronto
ODAR is the leading stove repair service in Toronto. We service and repair all common stove brands in Toronto. Over the years, we have provided efficient stove repair services to residents and businesses in Toronto. We offer reliable repair of stoves that use different power sources, including gas-powered, dual fuel, electric and propane-powered stoves.
We offer reliable, 24/7 repair of stoves and cookers including:
Range stove
Cooktop
Microwave oven
Wall oven
Stove repair is essential in a home or food business. Eating out regularly can be an expensive prospect. Therefore, when and if your stove develops a fault, it is essential that you get your stove repaired immediately.
Oven And Stove Repair In Toronto
Our stove technicians are experts in their business. They have the knowledge, skills and experience needed to take care of your stove repair jobs in just one day.
Electric Stove Repair
Electric stoves are one of the most common types of stoves. In Toronto and the GTA, they are the most common type of electric stove. There are classic stoves with circular elements over a small hollow and there are also the newer models with a flat ceramic stove.
No matter the electric stove that you own, our stove technicians can handle the repairs for you. Our experts have the skills and knowledge to take care of complicated and straightforward faults.
Gas Stove Repair In Toronto
Gas stove repair is a significant need for most food businesses and restaurants in Toronto and the GTA. It is preferred by food professionals as well as forward-thinking homeowners. This is because of the quick heating and cooking efficiency it offers.
We offer quick and efficient gas storage repair services in Toronto. Our experts have the experience and the certification to carry out an efficient repair on your gas stoves.
Dual Fuel Range Repair
Dual fuel ranges have a gas cooktop combined with an electric oven. Sometimes, they may have two ovens. These dual-fuel gas cookers use gas to heat pans and pot on the cooker while electric ovens deliver heat to your food from within. This means that you don't need to turn your food around while heating them.
24/7 Stove And Range Repair in Toronto
Common, Stove and Oven Issues That We Fix
Stove repair is a fairly common need in Toronto. Over the years, our technicians have handled different stove repair needs in Toronto. Some of the common stove issues we have handled include:
Stove not heating up
Oven not baking evenly
Broiler problems with your oven
Surface element not working
Oven light going out
Oven not turning on
Self-cleaning issues with your oven
Oven door repairs
Oven fan running continuously
Electronic panels displaying error code
Same day oven repair is one of our specialties. Our technicians attend to home calls carrying all of the components and spare parts you need. Every service truck carries an inventory of the best replacement parts required to fix your stove. Some of the components include:
Oven broil element
Oven igniter
Terminal block
Spark electrode
Door switch
Control knob
Grease filter
Surface burner
Gas produce
Oven baking element
We carry out repairs on popular brand names including Bosch, Bertazzoni, Milano, Forno, GE, Kenmore, LG, Samsung, Whirlpool, Thermador, Wolf, Viking and other brand names.
Reliable, Efficient Stove Repair In Toronto
Stove repair in Toronto is a matter of convenience. We attend to your house visits based on your schedule and convenience. We work 24 hours a day, all week long to make sure that your faulty stoves can be repaired speedily.
There is no need for you to worry about buying microwavable meals or eating out. Call our skilled technicians today!
Choose ODAR For Your Stove Repair Needs In Toronto Today
Our technicians are factory certified with years of experience.
All of our stove repair experts are TSSA gas contractors certified in gas appliance repair, service and installation
Complete warranty. All of our repair jobs come with long term warranty
Each repair job is fully insured.
Contact us today for same-day stove and oven repair in Toronto
Need Emergency Help To Repair Stove And Oven?
Our experts are on hand to help you take care of any issues you may have with your stoves and ovens. Call us today!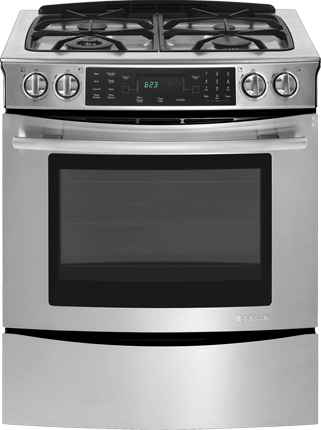 If your broiler is at the top of your oven, you may leave the door slightly open. If the broiler is at the bottom, close the door.
ODAR – Maintenance Tips For Your Stove
Regular maintenance will help you make sure that your oven does not develop faults incessantly. The following maintenance tips will help you make sure your oven is working correctly.
Clean Its Exterior Regularly
Be sure to clean the exterior control panel of your stove with a soft cloth combined with mild detergent. Be sure to clean the glass and door panel with a degreaser. Smooth glass-top stoves should be kept scratch-free. Therefore, use a non-abrasive cloth to clean it regularly.
Clean The Interior
Clean up any spills in the interior of your oven as soon as possible. This will help prevent smoke while you are cooking. If your oven is not a self-cleaning one, you can use a special oven cleaner to tackle your cleaning needs.
Replace Faulty Light Bulbs
Be sure to replace defective bulbs as soon as possible. You may need to remove a unique glass cover before replacing faulty bulbs
Clean Your Oven Racks
Oven racks can be removed and washed thoroughly. You can soak it in for a long time in soapy water to remove food particles.
Replace Your Broiler Pan
A broiler pan can be cleansed thoroughly with non-abrasive detergent and soft material. You may have to resolve the broiler pan if it gets damaged.
Popular Toronto Appliance Repair Services
ODAR – Licensed Appliance Repair Service
ODAR is the leading appliance repair service in Toronto. We offer reliable, quick, same-day repair services for appliance owners in Toronto and the GTA. Appliance repair can be a huge need for many residents of Toronto. It always seems like appliances give up on their owners at the most uncomfortable of times. This is why you need a reliable appliance service that can come to you at any time. Our customer care centre is open all week. Give us a call, and we will be right there!